MMG'words
Carpets
When I was asked if I could think of another way to see carpets, being visual sculptor, I thought about volume, installation.
I saw these carpets as works of art: they are in fact systems with a carpet base.
This concept has inflamed my imagination and many projects have invaded my mind; once the carpet unrolled, it is enough to throw a handful of petals around for some, to lay pyramids of records for others or even to fix a projector, which, when turned on, will make flow the stream between the pebbles.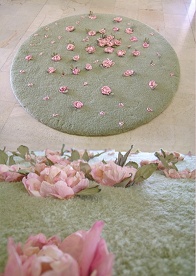 They are installation ready to be set.
Is it the fact that the carpet is laid on the floor that impeded it to become art, to be full of poetry as opposed to tapestry?
Why may not few square meters of floor be reserved for a work of art?
In fact quite a few facilities fall into the intimacy of a private home, probably because the art form was born at a time when artistic tendency was to express his discomfort and denounce the evils of society in which we live.
But I live in a world of poetry where happiness is daily, and this is what I want to share through my creations, all this being sculptures, candleholders, lighting, furniture, etc.
I do not create for disproportionate and impersonal spaces, but to touch the intimate, the dream ... having at home a carpet of fragrant roses...